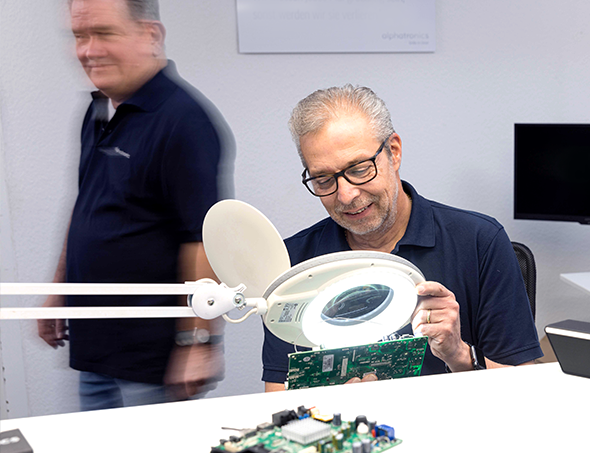 This year we are celebrating our 22th anniversary! For all this time, as a medium-sized company we have specialised in the mobile TV requirements of the caravanning world.
Our passion is future-oriented LED TVs that offer impressive image and sound quality, thus bringing the living room TV viewing experience to motorhomes and caravans. Technological demands have increased continuously in recent years. The special 12 V supply voltage, compensating for voltage fluctuations that occur in motorhomes, and the necessity for TVs to work reliably in different ambient temperatures are just a few of the factors we have to take into account. And let's not forget the need for our products to be compact and lightweight!
At alphatronics, everything is under one roof: from development and manufacturing to quality assurance and servicing. More precisely, your mobile TV is manufactured by us in Nuremberg. As one of the last German TV manufacturers, we are proud to be able to offer you a product depth of this magnitude.
We also understand the challenge of offering you the best, most reliable technology in a TV. Every day, each member of our team takes this challenge as an incentive to offer you an innovative, customer-oriented product.
When you buy a product from alphatronics, we give you our word that you are choosing an LED TV that more than meets these requirements. Intelligent technology, compact dimensions and a unique design – three components that make up a television from alphatronics.
Our philosophy is clear – we're big on details.
We would be delighted to welcome you to the alphatronics family.
Kind regards from Nuremberg,
Your alphatronics team
alphatronics is the "brand of the century"
alphatronics was named "brand of the century" by the "Deutsche Standards" brand jury under the umbrella
of the ZEIT publishing house and publisher Dr. Florian Langenscheidt.
The expert jury credits alphatronics with the fact that the brand symbolises the "mobile TV" category. Various factors of the
alphatronics brand have made an impression on consumers over the last 20 years, including high brand awareness, innovative
strength, production based in Germany and the company's status as a long-standing, high-quality market leader in the field
of mobile TVs. In an extensive three-stage selection process, German brands that define themselves according to high
standards were nominated. A expert advisory board, made up of brand experts from the fields of media, business and the creative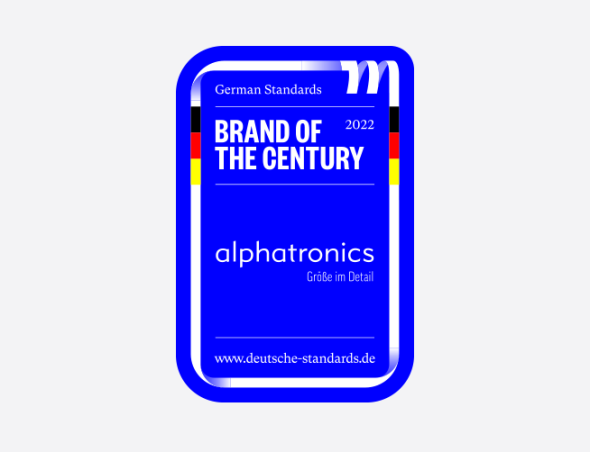 alphatronics has been awarded the "Innovativ durch Forschung" (Innovation through Research") seal of approval
Since 2014, the Stifterverband für die Deutsche Wissenschaft (Donors' Association for the Promotion of Humanities and Sciences in Germany) has rewarded companies undertaking research with the "Innovative through research" seal of approval. The seal recognises the special responsibility that these companies are assuming on behalf of the state and society in general.
The Stifterverband is one of the largest private science sponsors in Germany. In addition to its commitment to young academics, excellent universities and cutting-edge research, the association also examines and evaluates the status of German research and innovation. How much are businesses investing in R & D in Germany? What effect is this having on the future viability of this country?
At alphatronics, the pursuit of innovation is paramount. Thanks to our own in-house development department, we are always striving to implement new innovations and technologies in our products.